New Release – Young Adult / Fantasy
"Our enemies are prepping for the culmination of their plans, we have powerful allies in multiple realms, my magic is stronger than ever, and we're in a position to cross worlds and find the girl that's key to all of this. Seems like a good time for a finale, don't you think?"
In this epic conclusion to the nine-book fantastical series known for its soulful storytelling, exceptional world building, and heroic, inspiring characters, join Crisanta Knight and her allies as they fight for happily ever after—for themselves, the ones they love, and the many realms they have impacted.
Returning from her harrowing experience on Earth as a more powerful and more dangerous version of herself, Crisa must redefine her role as a hero, princess, leader, and human girl amidst realms on the brink of chaos and a slew of story arcs about to collide in climax. So put your dragon in park, holster your wand, and strap in for an adventure worthy of the term FINALE. The stakes have never been higher as the antagonists move to execute the final phase of their plan for the realm of Book and greater magical universe. Crisa and company will face them head on and attempt to conquer external and internal adversity as they push to truly live up to the role that started it all—Protagonist.
What Fans Say:
"A beloved series is hard to find, but this author has most definitely written one that should be granted a prominent place on every bookshlf around the globe."
"This series is one of the best I've read in quite some time. I can hardly wait until the next book is published. The story line is amazing and keeps you entertained throughout the book. This is a great twist on old classics."
"A brilliantly written story, easily ready for the TV or movie screen! As good as Game of Thrones, but written for a younger audience, this book will pick you up on its very first page, wrap you in its arms, and carry you all the way to the end."
ISBN 978-1-952782-83-1 (Paperback)
Young Adult/Fairytale Adaptations/Fantasy
6 x 9, 550 pages
Publication date: October 11, 2022
This book is available in paperback and eBook format:
~~~~~
Geanna Culbertson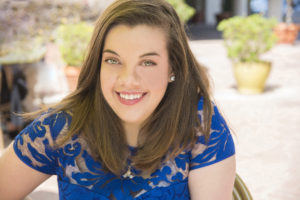 is the author of the Crisanta Knight series, a young adult fantasy series that will culminate with the release of book nine in October of 2022. She is passionate about writing books that will speak to young girls and their potential.
She is a sponsor and strong proponent of Girls on the Run, Los Angeles, an organization whose vision is a world where every girl knows and activates her limitless potential and is free to boldly pursue her dreams.
Geanna adores chocolate chip cookies, watching Netflix in pajamas, and the rain. On the flip side, she is deeply afraid of ice skating and singing in public. Although, she forces herself to do both on occasion because she believes facing your fears can be good for you. She lives in Los Angeles, California.
Please follow and like us: